2018 started off with a big bang for Agreefy as it partnered with Cisco Systems to power their new flagship Innovation and Experience Center in Dubai. Cisco IXC which serves as a hub for open innovation showcases all that is possible with digital transformation in sectors that range from retail and hospitality to healthcare and education.
The Cisco IXC is a first of its kind worldwide. It combines innovation capability with a customer experience to showcase how to bring digitization to life for Cisco's customers and our partners. Visitors at Cisco's IXC center receives an amazing opportunity to experience the latest Cisco solutions. Solutions that apply to the real-world in real-time scenarios and get a 360-degree view of technologies that deliver tangible business outcomes.
Cisco approached Agreefy to deliver an advanced visitor engagement platform. This platform provides next generation customer engagement through high accuracy Indoor location services, indoor wayfinding, advanced analytics with real-time two-way feedback utilizing geo-fencing and Cisco Spark.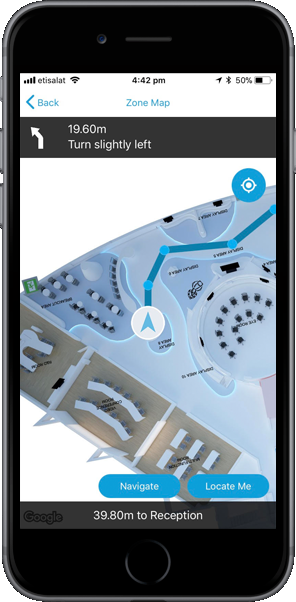 The results were a huge success with Agreefy's Aero platform enabling Cisco Robot to do remote concierge and assist visitors navigate the venue. The indoor geofencing which can send proximity messages in real-time, Integrations with Cisco CMX and virtual beacons to provide the best of the breed connected mobility experience.! Agreefy was able to deliver amazing performance in front of honorable dignitaries such as the CEO of Cisco Chuck Robbins as well as the CEO of Emirates Airlines, his Highness Sheikh Ahmed Bin Saeed Al Maktoum.
Not only was Agreefy able to meet Cisco's specific use case, but its technology is easily adaptable to verticals such as Retail, Malls, Resorts, Hospitality, Theme Parks, Museums, Manufacturing and Hospitals. If you are looking to deploy technology that works indoor or outdoor and can accurately place someone within 1 meter, whether it be for wayfinding, customer engagement, marketing or advertising, then Agreefy Aero has the best solution for you. Contact us at [email protected]